With its innovative and unique design, this sock assist aid is unlike any other sock aid or assistant on the market. Where other aids can be awkward and clumsy to use, sometimes not even succeeding in helping you, Sock Slider® has been designed to bring efficient support to anyone with mobility problems. Even without the use of both hands, this product will bring back the simplicity of wearing your socks. One simple step and they are on, one swift movement and they are off.
Easy on
HOW TO USE YOUR EASY ON SOCK SLIDER
1. Hold Easy On Sock Slider® between thighs, ensuring that the end with the keyhole shaped slot is pointing upwards.
2. Lay sock in the hollow of the Easy On Sock Slider® . The heel of the sock should rest upon the slot, with the toe of the sock pointing downwards.
3. Pull sock apart and roll it down over the tube. Once it is pulled down as far as possible, the sock will be turned inside out and opened up.
4. Place hand in sock and make sure the heel is in the correct position for entry.
5. Lower the Easy On Sock Slider® to the floor. Position your toes with the foot straight over the open sock and push into the sock. Step gently and foot should slide into the sock as far it can go.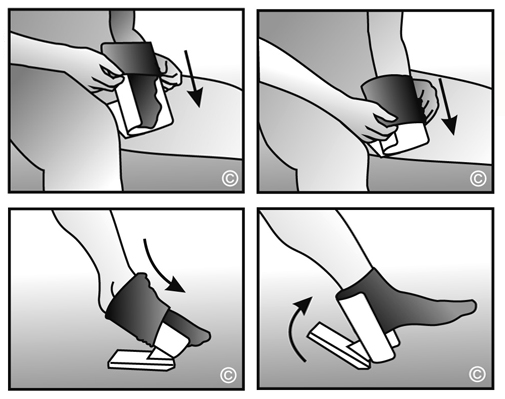 Easy off
HOW TO USE YOUR EASY OFF SOCK SLIDER
1. Assemble the two Easy Off Sock Slider® components by sliding them together.
2. Grasp the Easy Off Sock Slider® and slide the pronged end of the tool between the top of the sock and the ankle. Push it right down so that your heel is positioned comfortably in the slot. The two prongs should catch the cuff of your sock.
3. Step down fully with your foot then drop the handle to the floor and tread on it with your other foot. This will allow you to lever out of the sock easily. Your removed sock will remain attached to the prongs of the Easy Off SockSlider® .
4. Roll the handle of the Easy Off Sock Slider® with your other foot to return the Easy Off Sock Slider to an upright position and bring your sock straight to your hand.